Trusted by more than 2000,000 businesses worldwide, Magento offers flexible, scalable eCommerce solutions that are designed to help businesses grow and succeed online. Magento is an open-source content management system for e-commerce web sites. Magento employs the MySQL relational database management system, the PHP programming language, and elements of the Zend Framework.
ChannelSale's pre-compatible integration with Magento can help you reap the rewards out of this web store solution. Are you an Magento seller in need of promoting your business effectively across multiple shopping sites? From top online Marketplaces like Amazon, eBay, Walmart, Sears, Rakuten, Newegg, Wayfair, Overstock, etc., To Comparison Shopping Engines like Google Shopping, Nextag, PriceGrabber, Shopzilla, To Affiliate Networks Commission Junction, Share A Sale, Link Share – integrate with these big names by putting your trust on ChannelSale. Hire our Magento ebay plugin services at affordable rates.
When you rely on ChannelSale, you ensure optimum level of exposure of your business in top global marketplaces, CSE's and affiliate networks! ChannelSale is continuously adapting to the dynamic and ever-changing technological landscape, so that offering you premium product data feed management services, becomes easy. Via our automated product listing service, retailers/ online sellers can reach out to their targeted customers in a broader way.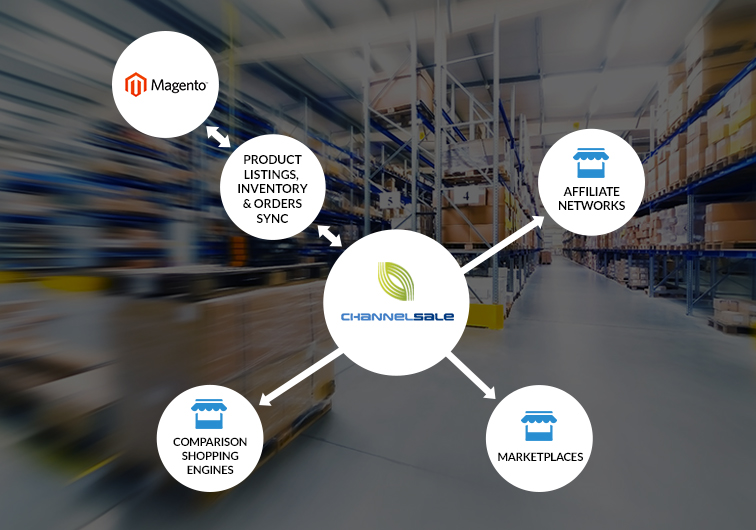 Click to enlarge
Why choose ChannelSale?
We synchronize and streamline the varied product listings of your business in a compact way
Your products reach out to the innumerable shoppers only at the right profit yielding shopping engines through us
Engage in efficient product catalog management with ChannelSale
With us say 'NO' to disorganized integration and erroneous data transfer
We enable in converting voluminous traffic and to double up your profit graph
Keeping a tab on product-performances and the top-selling ones gets simpler
Our real-time inventory services help you to be vigilant about the Store Keeping Unit level performance of your product inventory
Skilled personal support team to assist you throughout
Get 2 comparison shopping engines Sort Price, Bing Shopping setup costing $198 for free with Magento plugin integration with no recurring fee for first month, followed by $149 per month for upto 10k sku's, add $20 per month for next additional 5k sku's.
With us, your prospective buyers can only change to potential customers!
ChannelSale Magento Integration Features
Supports multiple Magento stores to list products, update inventory – all managed through single interface of ChannelSale.
2 ways integration via Magento API (Application Programming Interface), means you can automatically bulk list products on Magento via ChannelSale or the other way around that is ChannelSale can retrieve your product listings from Magento and further synchronize them across all the top online marketplaces, comparison shopping engines and affiliate networks.
Supports simple or multi-variation products / parent–child relationships. Products can have multiple sizes, colors, material type etc.
Have variable pricing for each marketplace / shopping engine, or retrieve your Amazon pricing to be sent to other shopping engines or markup pricing over cost price.
Custom product data attributes are supported. In order to optimize the product listings on the shopping sites, the best practice is to include data for as many product attributes as available. Examples: Bullet point descriptions, search terms, video link, multiple warehouse inventory, gender, pattern etc.
Real time inventory updates from / to Magento plugin – avoids over-selling and under-selling issues. For example – If a product sells on Amazon, the updated remaining quantity in hand would reflect in your ChannelSale account and further on Magento.
Business rules available to easily suppress products that are to be excluded from being sent to specific shopping sites.
Add on custom automated business rules to modify product data such as merge fields, add new content, markup pricing over cost, and many more business rules.
Centrally manage all orders. Import marketplace orders into Magento and export Magento orders to third party order fulfillment platforms / dropshipper's, Fulfilled by Amazon, or to suppliers.
In conjunction, continue using third party applications such as shipping order fulfillment software examples StoneEdge, ShipWorks, ShipStation etc., accounting software such as Quickbooks etc.
To know more, or speak to one of our Client Service Executives, reach us on phone +1-866-709-9495 or email info@channelsale.com