If there is any giant marketplace that is always in the news and making news, then hands down the award goes to the globally known platform, the soaring popular online marketplace, Amazon. Integration with Amazon, listing products and selling on Amazon has been one of the most cherished goals of many online retailers. Do you harbor the idea of selling on Amazon and reach out to the most potential customers in your niche? With ChannelSale, the top multi-channel marketing service provider, Amazon product feed listings, inventory and orders management are error- free. We vouch for offering you constant support with our Amazon product listing software when offering Amazon inventory management services.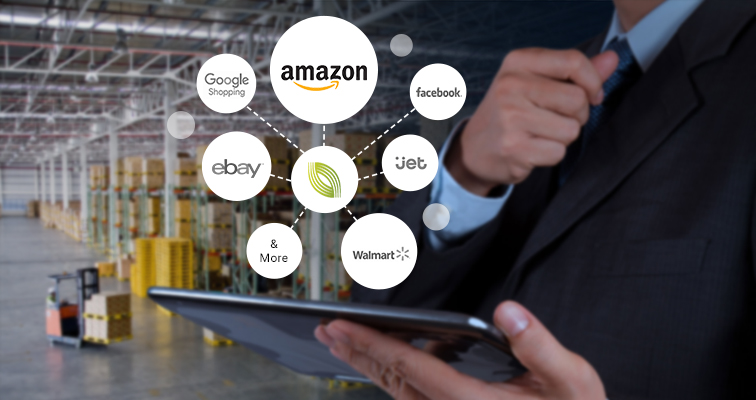 Are you hankering for exposure of your vast array of products across various channels and in the most-coveted online marketplace, Amazon? We put in our best foot forward so that the whole package that we offer to you as Amazon seller services can appease you to the best possible extent!
We know what it takes to make your business and its products reach its target market and when it is about listing your products in the giant marketplace like Amazon no matter how varied your product inventory might be we win your over with our managed services.
Why to rely on ChannelSale Amazon inventory management Software?
ChannelSale helps you in automated Amazon product listings in a streamlined way ensuring the products are listed in the most appropriate granular level product category while incorporating all the category specific product data attributes.
There is no scope for error when we take on the job of Amazon product data feed management and optimization with the best software tools developed by us and constantly improvised over many years!
ChannelSale offers you the best parameters to judge your product performance by engaging in real time Amazon inventory management to ensure your products do not over-sell or under-sell.
ChannelSale's Amazon management software, the tried and tested platform for ensuring that there is no flaw in the data transfer process by way of incorporating multiple levels of validations in order for you to save time.
ChannelSale Amazon product listing software also consolidates Amazon orders and shipping tracking management, we take full charge of the services that we offer so that you can put your trust on us.
Our skilled team of professionals is always at your support. We are just a call away!
ChannelSale Amazon Integration Features:
ChannelSale Amazon product listing software creates your product listings on Amazon via your product feed file in formats CSV, TXT, XLS or API-XML or directly from your existing webstore, suppliers feeds and further synchronize them across all the other top online marketplaces, comparison shopping engines and affiliate networks. You provide one file and our system automatically converts the files in the Amazon category specific templates.
ChannelSale can integrate your product data feed to automatically flow in to Amazon.com marketplace directly from your webstores such as Magento, BigCommerce, Volusion, Shopify, Yahoo store, AmeriCommerce, NetSuite, 3D Cart, Pinnacle cart amongst others. The Jet.com orders and shipping tracking updates can be synchronized with platforms such as Fulfilled by Amazon, SKU Vault, ShipWorks, ShipStation, StoneEdge, OrderMotion, OrderLogix, SOS Inventory and others.
Supports simple or multi-variation products / parent–child relationships. Products can have multiple sizes, colors, material type etc. Our system also readily supports kits or grouped bundled products, so that when any one product from the bundle sells or the entire bundle sells, either ways the available inventory for all remaining products gets automatically adjusted.
Granular level Amazon product taxonomy / category mappings to ensure your products get listed in appropriate matching Amazon product sub-category.
Have variable pricing for Amazon and other marketplaces / shopping engines, or retrieve your or easily markup pricing over cost price.
All the custom product data attributes are supported. In order to optimize the product listings on the shopping sites, the best practice is to include data for as many product attributes as available. Examples: Bullet point descriptions, search terms, video link, multiple warehouse inventory, gender, pattern etc.
Real time inventory updates – avoids over-selling and under-selling issues. For example – If a product sells on Amazon, eBay, Sears, Rakuten, Newegg, Wish etc., the updated remaining quantity in hand would reflect in your ChannelSale account and further on Amazon as well.
Business rules available to easily suppress products that are to be excluded from being sent to specific shopping sites.
Add-on custom automated business rules to modify product data such as merge fields, add new content, markup pricing over cost, and many more business rules.
Centrally manage all Amazon orders and shipping tracking updates. Automate exporting Amazon orders to third party order fulfillment platforms / dropshipper's, Fulfilled by Amazon, or to suppliers on an hourly basis. Setup to automatically update order shipping tracking number on Amazon.
business, then penetrate the online marketplace arena and allow your product listings in Amazon to reach out to your global consumers, the name of this marketplace speaks for itself! Earning profit and streamlining your business process with us is easy.
If you have been hankering for exposure of your
Need more information or looking to get started with enhanced selling on Amazon?, speak to one of our Client Service Executives, reach us on phone +1-866-709-9495 or email info@channelsale.com