There are 3 ways of selling on Walmart
Walmart Warehouse Supplier Program
The seller ships items to a Walmart Fulfillment Center, Walmart houses the items and shipes the same to the clients. This implies that the seller dispatch their items straightforwardly to the Walmart distribution centers before orders are set.
Walmart Drop Ship Vendor program
Sellers keep products in their warehouses and list them on walmart.com. When an order is placed, the seller ships it to the buyer with a Walmart packing slip. There is no shipping expense for Drop Ship Vendors as as Walmart covers the cost of UPS package.
3rd Party Seller
Sellers ship products directly to the buyers wherein the seller is in charge of their delivery costs.
Basic Requirements to be approved as a Walmart Supplier
1. YOU MUST BE API/EDI CAPABLE - To get approved as a new Walmart supplier you will need to be API capable.
2. YOU MUST BE A REGIONAL-ONLY SUPPLIER - Walmart is only accept regional suppliers by increasing the amount of locally-based products in their stores. Your startup or growing company has now a better chance of getting your products in your local Walmart stores.
3. YOUR PRODUCTS REQUIRE SOURCE TAGGING - Tagging products with an authorized source tagging label certifies your products are legitimate. To reduce shrinkage, Walmart requires suppliers to use source security tagging.
4. YOU MUST HAVE A UPC NUMBER - You must have a UPC number for your product in order to apply to supply it to Walmart. A UPC code consists of three parts: Company prefix, item reference #, and check digit. Naturally, getting a UPC number is a multi-step process.
5. ACCURATE DATA THROUGH A GDSN - As an approved supplier, you will need to be 100% in-sync with Walmart and provide specific data through a Global Data Synchronization Network (GDSN). Essentially, GDSN allows trading partners to share their business data with each other automatically.
6. YOUR D&B RISK RATING MUST BE LESS THAN 7 - Walmart requires you to register with Dun & Bradsheet and have a D&B risk rating of less than 7. This D&B rating provides a quick indication of your company's creditworthiness, which helps Walmart identify profitable opportunities for risks and growth that could affect cash flow.
How to apply for Walmart Supplier?
Walmart suppliers meet the needs of hundreds of millions of customers each week with responsibly produced products and services. Want to join the thousands of other businesses around the world that proudly call themselves Walmart suppliers? Kindly click here.
For more information on Walmart Supplier, kindly visit their website.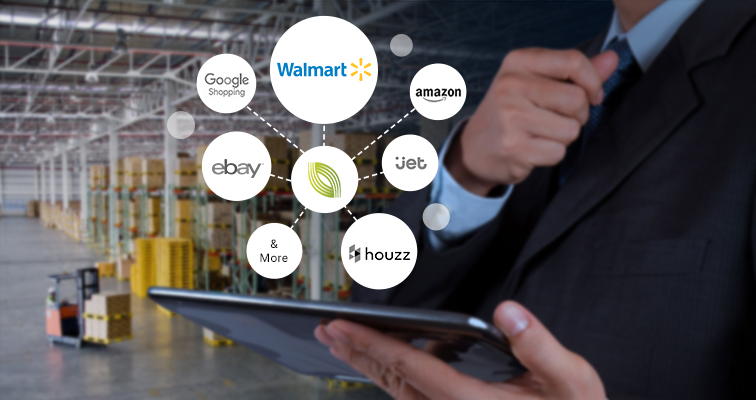 On choosing ChannelSale, you will be able to open up the doors of possibilities to over 200+ marketplaces.
ChannelSale offers you unquestionably the best integration process that can possibly be achieved in this evolved era of e-commerce.
With a wide range of intelligent tools and softwares made available by ChannelSale, you can achieve completely automated and flawless product listing and management that is sure to save wealth of time.
Besides listing, our software also allows instant updating of listings while maintaining perfect compatibility with the requirements of Walmart Supplier.
At the same time, you can also make the most of completely and infallibly automated real time Walmart Supplier inventory management, receiving performance reports and analytics, modification of product data and many more.
ChannelSale ensures elimination of needless hassles in managing your day to day business while also eradicating the fears and worries that can surface with respect to inaccuracies and careless manual blunders.
We also provide you with top-quality Walmart Supplier orders and shipping tracking management.
ChannelSale and Walmart Supplier Integration Features
ChannelSale can create your product listings on Walmart Supplier portal via your product feed file in numerous ways.
ChannelSale can integrate your catalog to automatically flow in to Walmart Supplier directly from your webstores such as Magento, BigCommerce, Volusion, Shopify, Yahoo store, AmeriCommerce, NetSuite, 3D Cart, Pinnacle cart amongst others.
ChannelSale can create simple products, variations, kits or grouped bundled products.
Custom product data attributes are supported. In order to optimize the product listings on the shopping sites.
Real time inventory updates – avoids over-selling. E.g. - If a product sells on Amazon, eBay, Sears, Rakuten, Newegg, Wish etc., the updated quantity in hand would reflect in your ChannelSale account and on Walmart Supplier as well.
Centrally manage all Walmart Supplier orders and shipping tracking updates. Automate Walmart Supplier orders to third party order fulfillment platforms / dropshipper's or to suppliers on an hourly basis. Setup to automatically retrieve order shipping tracking number on Walmart Supplier.
Add-on custom automated business rules to modify product data such as merge fields, add new content, markup pricing over cost, and many more business rules.
Easily reach your objective of succeeding with a big global platform like Walmart. Listing your products in this marketplace which is ever-increasing in popularity via our managed product feed listings, inventory and order management makes it a seamless process. In turn, you can engage in strategic thinking of your business in various other departments, enabling you to give a boost to your profit chart.
Need more information or ready to advance your selling on Walmart Supplier, speak to one of our Client Service Executives our toll free number or email info@channelsale.com