When you opt for integration with a top online marketplace like eBay, the name itself rings in words like trustworthiness, smooth customer relationship and enhanced sales revenues. It is our advanced software solution which can make the process of selling items on eBay and managing sales a hassle-free experience! So if you want multi-variation product listing services and want to manage your product inventory efficiently, then ChannelSale serves the purpose.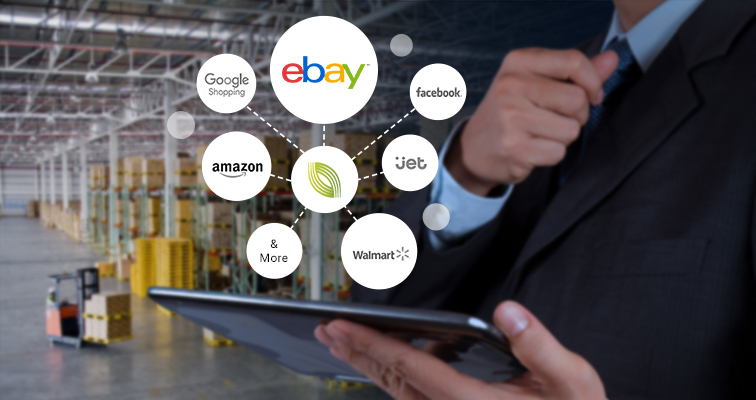 In this age of cut-throat competition when businesses are plagued by the fear of getting drowned in the pool of sameness in a respective domain, exposure is the catchword for every business owner! Are you an online retailer hankering for optimum level of exposure in well-known online marketplaces? With our pool of experts actively engaging in eBay listing management with our custom developed eBay listing tools and in depth eBay API integration fine-tuned over many years, you have nothing to worry.
If you are thinking why you will bank on ChannelSale eBay management software?
ChannelSale can be your apt eBay selling facilitator with its automated tools for eBay product listings, real-time eBay inventory management sync, eBay order and shipping tracking management services.
We help you to blanket your target market properly so that your products maximize its reach to the various profit yielding shopping engines.
With ChannelSale's campaign performance in-depth reporting tools, your product performances are bound to improvise, the high-selling and the under-selling ones become all the more transparent, thus enabling you to easily take strategy decisions on shaping your product portfolio.
No matter how varied your products are irrespective of their color, size, materials – effortless listing via our eBay management software is a plausible option.
Do away with any kind of incorrect data transfer as we only aim for accuracy.
Product catalog management across multiple shopping sites including eBay becomes easy with our eBay management tools and services.
ChannelSale's eBay plugin directly links up with our pre-configured integrations on webstores examples Magento, BigCommerce, Volusion, Shopify, 3D Cart, NetSuite, Yahoo store, AmeriCommerce & more; shipping / order management solutions examples ShipWorks, ShipStation, OrderMotion, OrderLogix, StoneEdge & more; Accounting software QuickBooks; Repricers etc.
We have an expert team of professionals to assist you throughout the whole process of eBay store management.
ChannelSale eBay Integration Features:
ChannelSale can create your product listings on eBay via your product feed file in formats CSV, TXT, XLS or API-XML or directly from your existing webstore, suppliers feeds and further synchronize them across all the other top online marketplaces, comparison shopping engines and affiliate networks.
ChannelSale can integrate your product data feed to automatically flow in to eBay.com marketplace directly from your webstores such as Magento, BigCommerce, Volusion, Shopify, Yahoo store, AmeriCommerce, NetSuite, 3D Cart, Pinnacle cart amongst others. The Jet.com orders and shipping tracking updates can be synchronized with platforms such as Fulfilled by Amazon, SKU Vault, ShipWorks, ShipStation, StoneEdge, OrderMotion, OrderLogix, SOS Inventory and others.
Supports simple or multi-variation products / parent–child relationships. Products can have multiple sizes, colors, material type etc. Also supports kits or grouped bundled products, so that when any one product from the bundle sells or the entire bundle sells, either ways the available inventory for all remaining products gets automatically adjusted.
Granular level eBay product taxonomy / category mappings to ensure your products get listed in appropriate matching eBay product category.
Have variable pricing for eBay and other marketplaces / shopping engines, or retrieve your Amazon pricing to be sent to other shopping engines or markup pricing over cost price.
Custom product data attributes are supported. In order to optimize the product listings on the shopping sites, the best practice is to include data for as many product attributes as available. Examples: Bullet point descriptions, search terms, video link, multiple warehouse inventory, gender, pattern etc.
Real time inventory updates – avoids over-selling and under-selling issues. For example – If a product sells on Amazon, eBay, Sears, Rakuten, Newegg, Wish etc., the updated remaining quantity in hand would reflect in your ChannelSale account and further on eBay as well.
Business rules available to easily suppress products that are to be excluded from being sent to specific shopping sites.
Add-on custom automated business rules to modify product data such as merge fields, add new content, markup pricing over cost, and many more business rules.
Centrally manage all eBay orders and shipping tracking updates. Automate exporting eBay orders to third party order fulfillment platforms / dropshipper's, Fulfilled by Amazon, or to suppliers on an hourly basis. Setup to automatically retrieve order shipping tracking number on eBay.
Easily reach your objective of succeeding with a big global platform like eBay . Listing your products in this marketplace which is ever-increasing in popularity via our managed product feed listings, inventory and order management makes it a seamless process. In turn, you can engage in strategic thinking of your business in various other departments, enabling you to give a boost to your profit chart.
Need more information or ready to advance your selling on eBay?, speak to one of our Client Service Executives, reach us on phone +1-866-709-9495 or email info@channelsale.com