Turn your "just another e-commerce" business into the next big thing. Take hands of WooCommerce, one of the top online selling platforms. With power exuding on the every front, WooCommerce offers seamless opportunities to help you scale and sustain your business through countless plugins that cover all your needs—from listing to analytics to fulfillment. The platform touts being the most customizable that can easily flex according to distinct and unique needs of sellers of all kinds and sizes. With all that WooCommerce brings on the table, along with exceptional WooCommerce integration facility, striding to the top of the top with high revenue gets easy Using ChannelSale, you can use WooCommerce even more effectively to drive more sales by syncing it with hundreds of other shopping channels.
Championing in helping sellers be a high profitable multi-channel seller, ChannelSale facilitates flawless integration of WooCommerce with countless marketplaces, webstores and comparison shopping engines on few simple clicks. From WooCommerce Amazon to WooCommerce Google Shopping Feed—sync all to streamline your efforts and bring more efficiency in your operation. With ChannelSale, get a centralized platform that provides, among other features for different channels, to manage WooCommerce Product data Feed, WooCommerce inventory and more under single roof. So, if you've just started using WooCommerce or are planning to scale your online stores to new heights, leverage the power of ChannelSale. Today. Now.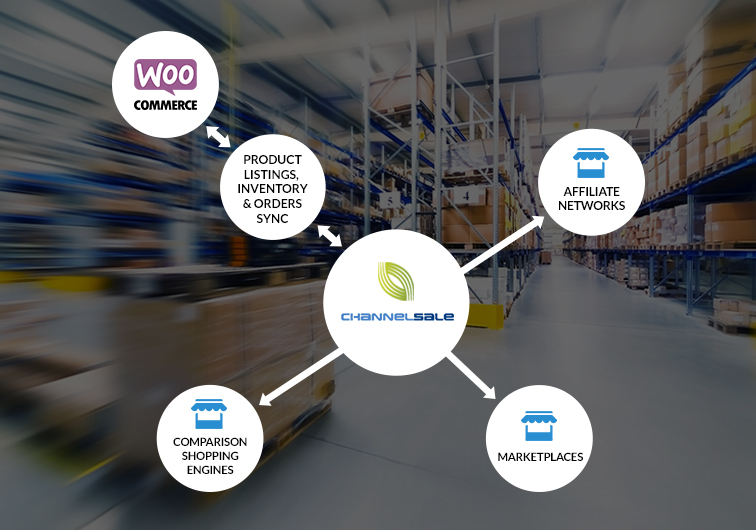 Click to enlarge
Why Trust ChannelSale?
ChannelSale is one of the foremost multi-channel e-commerce software solutions, serving online sellers, resellers and agencies.
Our one-stop platform is extremely powerful with simple and user-friendly interface that assures to provide users a fully convenient experience.
The solution provides reliable integration facility between 200+ shopping channels. So regardless the marketplaces, webstores, comparison shopping engines and affiliates you use—you can all sync them together with WooCommerce on ChannelSale.
Handling the backend operations of your multiple selling channels become super easy. From WooCommerce inventory management to Amazon feed optimization- handle everything swiftly, efficiently and on single platform.
We cater online selling businesses of all types and sizes with our flexible services and diverse plans in pricing. So whatever are your goals, requirements, business goals and budget—ChannelSale is a name you can trust to have you covered from every angle with complete adequacy.
ChannelSale centers its offering on the distinct needs and requirements. Committed to provide the best possible experience to the online vendors, we promise 100 percent satisfaction.
We stress over sustainability just as much as immediate growth. ChannelSale packs rich analytics to help you evaluate, understand and improve your sales performance. Know which channels are doing badly, which ones are performing great and then make data-driven strategies accordingly.
A qualified and experienced team of customer executives is always available 24/7 to assist vendors through every technical and operational problem. So if you ever face any error or require managed services, you can expect the best professionals to come to your aid.
ChannelSale WooCommerce Integration Features
ChannelSale can extract your product listings via API-XML from WooCommerce and then synchronize them across all the top online marketplaces Amazon, eBay, Walmart, Jet.com, Sears, Newegg, Rakuten, Houzz, Wish.com, Etsy, Pricefalls, Bonanza; comparison shopping engines Google Shopping, Shopzilla, Pricegrabber, Bing Shopping and affiliate networks ShareASale, CommissionJunction and many more.
Supports simple or multi-variation products / parent–child relationships. Products can have multiple sizes, colors, material type etc.
Have variable pricing for each marketplace / shopping engine, or retrieve your Amazon pricing to be sent to other shopping engines or markup pricing over cost price.
Custom product data attributes are supported. In order to optimize the product listings on the shopping sites, the best practice is to include data for as many product attributes as available. Examples: Bullet point descriptions, search terms, video link, multiple warehouse inventory, gender, pattern etc.
Real-time inventory updates from and to WooCommerce plugins – avoids over-selling and under-selling issues. For example – If a product sells on Amazon, the updated remaining quantity in hand would reflect in your ChannelSale account and further on WooCommerce.
Business rules available to easily suppress products that are to be excluded from being sent to specific shopping sites.
Add on custom automated business rules to modify product data such as merge fields, add new content, markup pricing over cost, and many more business rules.
Centrally manage all your orders. Export WooCommerce orders to third-party order fulfillment platforms / dropshippers, fulfilled by Amazon, or to suppliers.
At the same time, continue using third-party applications such as shipping order fulfillment software examples StoneEdge, ShipWorks, ShipStation etc., accounting software such as QuickBooks etc.
Hand-in-hand with ChannelSale, don a hat of smart WooCommerce multi vendor. Amp your sales and increase your revenue—do all of these without giving up your entire life. We make things incredibly easy, efficient and cost-effective. To know more, please call us on +1-866-709-9495 or you can even email us at: info@channelsale.com